Digital Strategy for CIO
---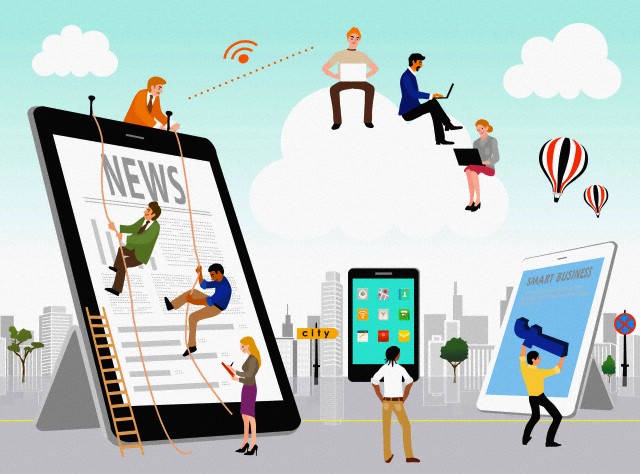 "If we do not plan for DIGITAL business we might be out of business, Our competition is going DIGITAL, What are we doing about it" – Read an early morning text from a CEO of a Large Diversified Corporation to it's new CIO 
Over last 12 months, Digital has become the De-facto requirement for whatever new project business wants IT to take up. The IT Service providers have also left no stone unturned in branding Digital as the next big wave of Business Transformation. After years of muted IT spend, It appears that Corporations are all set to loosen their purse strings for Digitizing their businesses.
But what exactly is Strategy for Digital Business ?
A Digital Business is about doing the activities in business value chain – Finding customers, producing goods, distributing and collecting cash, ALL electronically without any physical exchange. A digital business works by converting the product/service into INFORMATION which can be transmitted electronically across the value chain.
The table below describes how digital Transformation is happening in various industries, Greens are already digitized businesses, Yellows are in prototype stage and Reds are an unlikely distant future.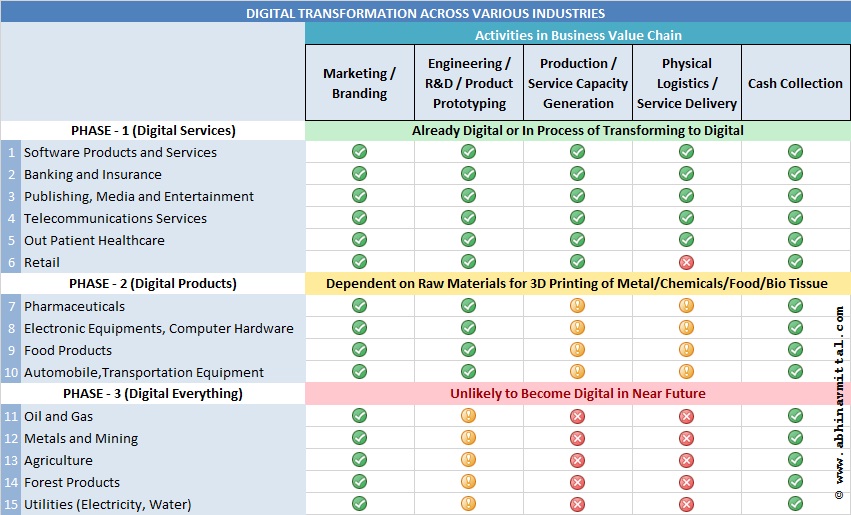 Across all the industries it is evident that more and more customers are going online, The social and online platforms like (Facebook, Google, LinkedIn) have inspired the branding and marketing teams to conduct highly targeted campaigns based on prospect's location, calendar and browsing history across multiple devices and channels (Internet, Mobile, Satellite TV) . Thereby pushing IT to spend money on new APPS, trying to create uniform brand experience across different versions and hardware configuration of Mobile devices. The multitude of complexities is this space is ensuring that IT vendors keep the billing engine on as they try to bring the Digital customer closer to business.
The other area in which is Digital is taking lead across the industries is Cash collection and Payments, As the banking across the world turns online, More and More money is getting exchanged in electronic forms than physical currencies. Even in Unbanked communities the Mobile based payment systems are ensuring low transaction costs, safe, instant transfers for millions across the world.
While various processes will keep getting automated and digitized, A True Digital Industry is where end to end processes in core value chain happen through electronic information exchange. This is where I can visualize three phases in digitization.
Phase 1 : Digital Services is happening right now, This is a phase where all the SERVICES based companies have gone digital, These companies are in business of selling information and were dependent on Physical mediums (Paper, DVD Disks, Tapes) to store and sell information. Banking Industry was 1st to realize that a Currency note is also information printed on paper, The information printed on the paper has more value than the paper/plastic used to print it.  Realizing the fact early, banking industry has been a pioneer in embracing the digital revolution. With anywhere high speed internet moving closer to reality, Services based businesses like (Publishing, Entertainment, Software) will continue to lead the Digital Race across the value chain.
Phase 2 : Digital Products is under prototype stage right now and can take up to 10-15 years to evolve, Companies in this phase are focusing to covert "Bytes into Atoms" Calling upon capabilities of 3D printing technology. Corporations which have started to take this route have started to explore their business models from being a mass producer to the niche designer, This phase requires companies to focus away from making money by selling physical product and requires them to start planning for generating money by selling product design information transmitted securely and digitally to a 3D printer. Thus digitizing the value chain by enabling a consumer to "Print and Pay" for the physical product at ease of his home/office.
In order for "Digital Products" to be part of our every life, The companies in Phase 2 industries would need to consider some aspects like
How will the physical products be disaggregated into their primary raw materials. These raw materials will have to be standardized or substituted for constructing the original product. Hence these materials should be adaptive, So it could be used for other 3D printed products
While printing polymer 3d casted products seems simple enough, The challenge emerges when the individual parts are part of a bigger assembly where they have to work together in a sequence to perform an electro mechanical activity. For example printing a fully functioning car in a 3d printer would require a highly complex and big 3d Printer which could not only print the products but also has robotics to perform mechanical work of arranging the parts together to create a fully functional car
Many products we use today are made of industrial composites which require processing multiple ingredients at difficult pressures and extreme temperatures. 3d Printing these in residential environments could be an environment and human hazard
There are unaddressed ethical, regulatory concerns on what should not be 3d printed, Who should print restricted items . (Eg : Bio printing of Organs, 3d printed Firearms)
 Even after all of this is addressed, The Complete Digital Transformation of Product based Industries will only happen once the cost of making a 3d product falls below it's landed cost at doorstep.
Phase 3 : Digital Everything : Primary Industries like Oil and Gas, Metals and Mining, Agriculture and Forestry are unlikely to 100% digitized, Since they deal with production and extraction of natural resources from free nature. While today's science can decompose them at chemical levels. There are no basic building blocks / raw materials to recreate the primary materials using 3d printing devices.
Ok – I understand all this now, But What do I do next ?
If you are in the holding the CEO/CIO chair, look at the Industry Process Value Chain above table and identify which Digital Transformation Stage of your industry. Not all the industries are listed in the above table so pick the one which is closest.
Digital Services : – If not started already, Step back rethink the entire business model from Customer to Cash. There is no denying the fact that all services business will become digital, While both physical and digital might co-exist for few years. Eventually life will become paper less. The only exception will happen to businesses where power, internet and mobile penetration are so low, that a physical medium is required to exchange information
Digital Products : – There is still some time, However if you want to be a market leader, Then use this time judiciously, Find out from product team what does it take to build products of future, Understand from vendors what is the composition of inputs, Identify some 3d printing companies which can develop composites for your products. Also understand from legal team on ways to protect your intellectual property (Designs, Patents) in new world.
Primary Goods – It is an new market : While the core business will be the last to get impacted, There would be an emerging opportunity to create new business by developing various kinds of raw materials used for 3D Digital Printing.
Common to all business segments will be digitization of Sales and Marketing, Finance and HR processes while you might have an ERP (SAP/Oracle/Salesforce/Dynamics) and few Custom Apps.  The demand to enable mobile workforce and all apps from any device, anywhere will keep the office of CIO running.
Business Transformation to Digital is here to stay, So How is your company aligned with future. Keep talking 
---
3 Responses to "Digital Strategy for CIO"