7 Habits of a Dysfunctional CIO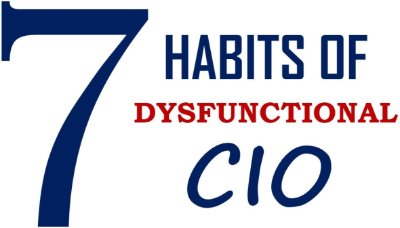 Not Communicating Business, Not Communicating Across, Not Communicating Enough
Even today Business Leaders struggle to make sense of their IT Costs and Operations. A good CIO knows this fact. Dumbing down the technology jargons, Ensuring IT Costs, Benefits and Risks are always communicated as way of stories which business leaders can relate to. A good CIO ensures frequent and open communication at all levels of the organization. He constantly strives to connect with end users, peers and executive board members to advocate the good work done by his team.
Depending Solely on Vendors for Innovation
Whatever strategic partnership you might have with a vendor, at the end he is looking to sell something to keep it's cash registers ringing. If Industry practices are common a vendor could seek to maximize it's own incentives by monetizing the same solution across many clients. It is therefore, unlikely that such innovations will ever give a sustainable Technology differentiation to your company. Companies with successful track record of innovation understand this very well. Before asking their CIO to approach the vendor, they create an Internal Innovation Program to pool ideas from Employees, Customers and Vendors. Thus, creating an idea pipeline from which the best ones can be funneled and picked up for funding.
Always Thinking Big Transformation
Transformation is the most common cliché in IT. It is often synonym for High Capex projects approved after multiple deliberations/ RFP discussions. While these are Important projects, they end-up taking significant time from customer facing and team development priorities of business leaders. Each transformation unleashes a wave of changes, when such changes starts to overflow they can make the organization's operating dynamics unstable. Change management in larger organizations is a slow process because employees take time to adapt to newer ways of working. An intelligent CIO understand the change absorption rate in the organization and hence, ensures that On-going transformations are well assimilated before starting any new projects.
Not aligning to Business Priorities
Market forces and Competitive pressures can cause a business to pivot it's strategy during execution. 5 year IT vision and roadmaps don't work any longer. When the environment is unpredictable, Every Annual Operating Plan undergoes turbulence. It is hence very important for a CIO to align his team with immediate priorities of business and challenge the business on high priority Project Portfolio, resource schedules and service levels, thus delivering what is right in present scenario.
Challenging Rogue IT roles in business teams
IT roles in business departments are here to stay. The New Gen Business executives who have grown up watching business processes on ERP consider IT as an indispensable asset in every business process. They treat information flow across the systems equivalent to Cash flows of the company. Whenever IT is critical to any business process, A business leader would want to keep Process and Technology decisions with himself, while being in control of his application portfolio. Hence It is only natural that a business leader will ask for solutions from vendors which are not part of CIO's empanelled list. A command and control CIO who refuses to play broker with vendors and Business, can put his IT organization on route to redundancy. As BYO (Bring your own) and SaaS (Software as a service) have potential to give the data and application control in the hands of business. Thereby, limiting the role of CIO to manage vendor relationships and Infrastructure.
Overlooking efforts of internal IT team, While loving the service provider staff
Internal IT staff ensures IT's Alignment with business. They handle the internal politics, Control change requests and work towards realizing committed benefits of projects. Complimenting these skills of Internal IT, the Service provider staff brings the external perspectives and ensures that project is completed in stipulated time and costs. Hence Both Internal IT and Service Provider teams need to co-exist for successful and economical IT operations. Internal Staff are custodians of IT Strategy and service assurance, who face the fire from business in event of a service disruption. A CIO who expects loyalty and trust in his function should never downplay his team in front of vendor staff. He should offer personal coaching time and ensure teams attends mandatory skill upgrades trainings every year.
Not Aspiring for the top chair
A CIO should think like a CEO, Treat IT as an Investment Center with a focus to grow EPS (Earnings per share). While a CIO might not have a career aspiration to become CEO, Thinking like one will help in building an external focused IT function which foundations in customer centricity, financial prudence and innovation mindset. When working with vendors, A CIO with CEO's hat will always challenge a service provider on delivering exponential value rather than fretting over incremental cost savings. Adopting a CEO's mindset will bring the CIO more closer to peer CXO's, fostering collaboration among business and IT. Thus, expediting the achievement of organization's goals.
How well do you relate to these 7 habits, What would be the 8 habit you would want to add to this list. Lets keep the conversation going
Written by Abhinav Mittal, Abhinav is IT Productivity Coach based out of Dubai, He has a decade of experience in helping business leaders get more value from their IT investments
Are you an Operational CIO looking to become a CEO, Contact Abhinav on
 for a private and exclusive one to one coaching session