Smart Morning Alarm Apps to Beat those Winter Blues
---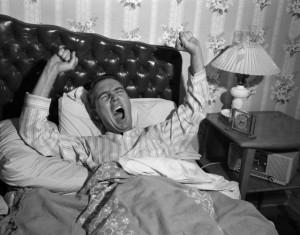 With winters giving knock on the door early morning, Getting up seems  to be a common pang. Especially in case you are among those used to  working / watching TV / Partying late nights.
In the Age where Alarms clocks have been taken over by cell phones,  often close to bed sides, Our hands do not require much muscle work in  hitting that "15 Min Snooze" and sometimes "The silent button".
Scientifically we have conditioned our minds to treat the 1st Alarm as an opportunity to tell our body that we have 15 minutes more to sleep.  Thus ignoring the original purpose why the 1st Alarm time was set up.  This makes us start our day with procrastination, not a very great  emotion to carry throughout the day.
So let me introduce you to some of the FREE applications which you can install from Android Market which makes the task of getting up more fun thus ensuring we get up full of energy.
1. On Top of my list is "I Can't Wake Up! Alarm Clock" by KOG Creations
It is a feature rich Smart Alarm clock app, Which forces you to perform a task to switch off alarm. The task can be mental or physical based on your love/hate preference. For example you can set yourself to crack a math problem, solve a word puzzle, do a pattern match, Good enough to simulate the brain into action to get up.
For those who like to flex some real muscles, You can chose the Shake task, which will only turn off the alarm only when you shake your cellphone violently for 1 minute. If that does not work out, then you can select the barcode finder and walkover to the bath room to scan the code on favorite shampoo bottle to turn off the alarm. Once you start walking it is unlikely you will get back in bed.
2.   Next on my list is the "WakeTube – YouTube Alarm Clock" by Janusz Leidgens
True to it's name the application does a very simple thing, Makes sure you wake up to your  favorite YouTube video every morning. Just make sure you have a good quality internet  (Wifi/3G/4G) to play videos without buffering.
3.   Finally my favorite being the "Alarm Clock Wise"  by Bits n Logics
Or let me call it the Bollywood music app, Every morning the app plays a random song based on your favorite playlist. The trick here is randomness, So every morning you are kept guessing, While being greeted by a new song. A theme used on the popular reality show (Big Brother/Boss).  Those staying away from family can use the same app to get up by a pre-recorded voice  greeting from family members. Pretty Nostalgic !!
So, How are you getting up tomorrow !!
(Apologies to Non Android Users for not knowing their Alarm Apps, In case you know any good ones do share) 
---